GMT Makes History at Watkins Glen
(check it out on Wikipedia!)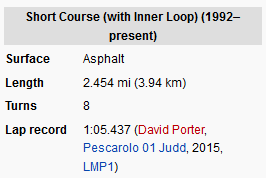 from The Star Gazette:
David Porter ran away and hid in his modern-era Le Mans prototype in the GTP3 Group 11 race during the Glenora Wine Cellars U.S. Vintage Grand Prix at Watkins Glen International on Saturday.

Porter built an early margin with his Pescarolo 01 LMP1 car and carefully negotiated a crowded track of smaller sports racers on his way to a 22.686-second victory over Travis Engen in a 2005 Audi R-8 LMP1.

Porter, whose LMP1-pro class car finished fourth overall at the 24 Hours of Le Mans in 2007, averaged 125.690 mph in the 14-lap race on the Glen's 2.45-mile short course.

[...]

Porter topped a strong field of the fastest Le Mans-type prototype racers that was mixed with lower-powered sports racers from Group 7b to fill out the field. That presented a problem on the faster short course as lapped traffic occurred more often.