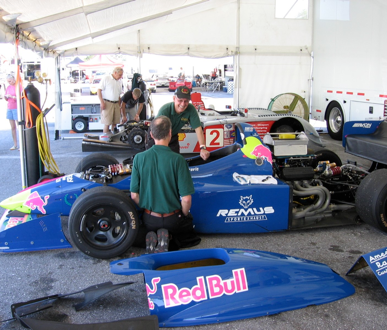 OUR CREW AND CREDENTIALS
GMT Racing has attracted a staff of talented, experienced individuals since starting with a single employee in 1995. These employees are the foundation that have allowed us to expand and improve our services. We are ready to assist you with your racing needs, and we look forward to working with you!
Crew Members: J.R. and Eileen Mitchell, Dean and Nicola Hutchinson, Joshua Mitchell, Craig Hanson, Gary Bentley, Greg Martin, Anna Mitchell, Ray Snowdon, Juan Peguero, Martin Viall, Nick Polimeni, Nancy Becker, Scott Clark, Andreas Brodie, Denis Pruchnik, Chuck Golder, Cathy Cramer, Tim Albright, Vern Williams, and Will Thomas.
JR. Mitchell pretty much does everything — anything that needs 'doing' at the shop and track is his business. Currently his time is spent focusing on track support and chassis setup.
Dean Hutchinson came to the USA to work at Bob Akin Motor Racing after stints with Hall and Fowler, and Simon Hadfield. An accomplished welder/fabricator, Dean specialized in the nickel bronze welding found on most tube space frames from the 1960′s and 70′s. Dean co-founded P&D chassis and worked on a wide variety of projects in Vintage and SCCA Racing before coming to work with us at GMT. Dean also shares Crew Chief responsibilities when GMT is at the track.
Tim Albright heads up the B.O.S.S. operations here. He comes with a long and distinguished racing background including IMSA and SCCA racing. Tim operates a prep shop in Stuart Florida that specializes in the restoration and preparation of GTP cars.
Joshua Mitchell started attending races literally before he was born. Josh formally started with GMT as a part time summer helper while he was still in High School, and has remained with our team ever since. Besides his skill with mechanical prep work, he is responsible for our vinyl graphics and lettering on our race cars.
Martin Viall comes to us from Hudson Histories with an extensive background in modern and historic formula car racing. Martin is primarily responsible for the restoration and preparation of the Historic Indy Lights cars along with crew chief duties for those cars at the track.
Nick Polimeni ran a shop in West Virginia before moving north to join GMT. Nick runs an IT Volvo with groups like EMRA as well as serving as a driving instructor for them. Nick does restoration, prep and track support for both the vintage and historic cars.
Ray Snowdon is a Competitor/Coach/Chassis mechanic/Test driver/Manager with years of experience. He was an S.C.C.A. member for thirty years, and has spent time instructing, testing and maintaining cars for various companies, including Lee Chapman Racing, and our own GMT back in 2002-2007. He rejoined GMT Racing as mechanic, test driver and coach in 2016.
Juan Peguero started at GMT as a helper and has moved up to prep and track support primarily on the Indy Lights and vintage cars.
Gary Bently had a career as a machinist with multiple manufacturers before coming to GMT to run our machine shop. Due to the large number of parts we need that no longer are made, Gary has become an ace at reverse engineering.
Nancy Becker joined us as a team nutritionist, cook and team mom. Besides being a fantastic chef, Nancy is also a BMW driving instructor and has run many of the Sea to Shining Sea cross country rallies.